Safe Beginnings Childproofing making homes safe for baby... giving parents peace of mind
Safe Beginnings Childproofing Service makes the job easy! We do it right the first time, before accidents happen!
Whether itís one room, your entire home, or even your swimming pool, we recommend and professionally install the best quality babyproofing products and pool fencing to make your home safer for baby.
We evaluate your home to make it safe for baby, securing stairways, hallways and rooms leading to off-limits areas, cabinets and drawers, windows, heavy furniture that could tip over, fireplaces, electrical outlets, closets, swinging doors, ovens and toilets. Our professional installers can outfit your home with the highest quality safety products including safety gates, drawer and cabinet latches, outlet plates and covers, toilet lid locks, door locks, window guards, fireplace guards and custom lexan for balconies. We also offer family safety items including fire escape ladders, carbon monoxide detectors and first aid kits.
If you have a swimming pool, we can also install a removable mesh fence that allows you to and your family enjoy your patio area while preventing access to your pool.
Massachusett's premier childproofing service - Over 25 years experience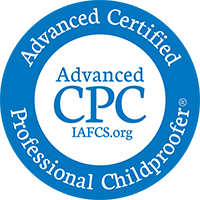 Jeff Baril (Owner of Safe Beginnings) has earned the Advanced Certified Professional Childproofer designation from the International Association For Child Safety